Stopping cocaine when there is an addiction or dependence, just like any other drug, produces unpleasant withdrawals. Withdrawal symptoms can be so severe that the individual continues using even when they desperately want or need to stop.
Cocaine is an extremely addictive Class A drug that gives very pleasurable effects. As a short-acting drug, a user has often left craving more. Cocaines intense high and cravings can lead a person to lengthily cocaine binges and to full-blown addiction.
Quitting cocaine successfully isn't as simple as just putting the drug down, at least not for those who are addicted to it. Some people need medical help to enable them to stop, Detox Plus UK are specialists in drug detox and rehabilitation. We are able to facilitate medical detoxes within our exemplary CQC registered detox clinics and rehabs.
The first step in recovery from any drug addiction is to stop the drug safely. A detox can successfully achieve this where other methods of stopping have failed.
Please call us today for more information on our detox centres and a free, no-obligation assessment of your addiction treatment needs. We guarantee you complete discretion, understanding and professionalism at all times.
What Is A Cocaine Detox?
There is no medically assigned detox that is specific to cocaine. However, Detox Plus UK do recognise that just like any other drug, when an individual develops a dependence, withdrawal symptoms occur on stopping cocaine.
Cocaine detox is a medically prescribed short course of medication that alleviates cocaine withdrawal symptoms. A  detox enables an individual to stop taking this drug with minimum discomfort. It also eradicates intense drug cravings which are typical of withdrawal.
Cocaine detoxes are conducted within the safety of our detox clinics – where patients receive around the clock care delivered by a multidisciplinary team of addiction treatment practitioners.
The team will usually consist of a consultant psychiatrist, doctors, nurses, counsellors and therapists — all of whom monitor, support and care for you throughout the entire process.
A professional programme really can make all the difference, the medication and professional support and treatment help tremendously.
Who Needs A Cocaine Detox?
Any individual who wants to stop taking cocaine but is unable to stop would undoubtedly benefit from undergoing a private detox.
Having an addiction to cocaine is a life-threatening illness that requires fast and effective professional treatment in order to recover.
If you have tried other methods of stopping cocaine and have failed, then a detox is the next logical step.
What is Cocaine Withdrawal?
Cocaine can cause drug tolerance (meaning you will need to take more over time), drug dependence (meaning that you will suffer withdrawal symptoms without it) and drug addiction (meaning you will be compelled to keep taking the drug even when you desire to stop).
A detox stops the majority of withdrawal symptoms from occurring, or at the very least reduces them too far more comfortable levels. Without a medical detox, withdrawal comes on fast and strong; the overwhelming cravings can be tough to resist.
Cocaine withdrawal symptoms include:
Anxiety
Depression
Strong cravings for cocaine
Lethargy
Paranoia
Suspicion
Insomnia
Restlessness
Agitation
How Long Does Cocaine Detox Take?
Without a detox, cocaine takes anything from 24 hours to 12 days to work its way out of your system. The heavier the dependence and more frequently you take it, the longer the drug will stay in your body.
Someone with a chronic addiction, who has been taking cocaine daily for a prolonged period of time, should consider a 2-week inpatient detox followed by a minimum of 4 weeks rehab treatment. Detoxing from cocaine is only the very beginning in the long road of recovery from addiction.
Every individual is different and has varying treatment needs. We take this into account when recommending a bespoke treatment programme.
Treatment for Cocaine Withdrawal
Relapse rates for addiction are very high, with 40 to 60 per cent of individuals relapsing.
Undergoing a full rehab programme following a medical detox will give you the best chance of staying clean.
Rehab treatment consists of a number of evidence-based treatments designed to unearth and heal the root causes of addiction and provide you with the essential recovery tools to help you to stay clean.
Without rehabilitation, the addicted brain stays in the same state of mind. All a detox substantially achieves is a period of clean time. It is essential to maximise this opportunity by undergoing professional addiction treatment to change the mindset created through repeated exposure to cocaine.
Where Can I Get A Cocaine Detox?
Detox Plus UK work with only the most established and reputable rehab centres in the country. Regardless of where you live in the UK, we can direct you towards the right detox clinic or rehab for you.
Following a comprehensive telephone assessment of your individual addiction and mental health needs, we will recommend a detox programme that will provide everything you need in terms of treatment.
Our clinics are located all over the UK, each clinic offering a slightly different selection of treatments and the environment. With a vast number of private treatment centres available, it is crucial that you access the treatment centre that is most likely to work for you as an individual. We are here to help ensure that happens and will support you each and every step of the way.
NHS Cocaine Detox
Sadly the NHS does not fund rehab for cocaine addiction. This is because they do not recognise cocaine as a drug that requires detox. Funding for addiction treatment through rehab is very thin on the ground and so is reserved for alcohol and heroin addicts mostly.
We know that cocaine creates dependence and addiction, and so we treat it as we would any other drug. Cocaine related deaths are currently at an all-time high in England and Wales. 637 deaths were recorded by the Office for National Statistics in 2018, where cocaine was stated as the cause.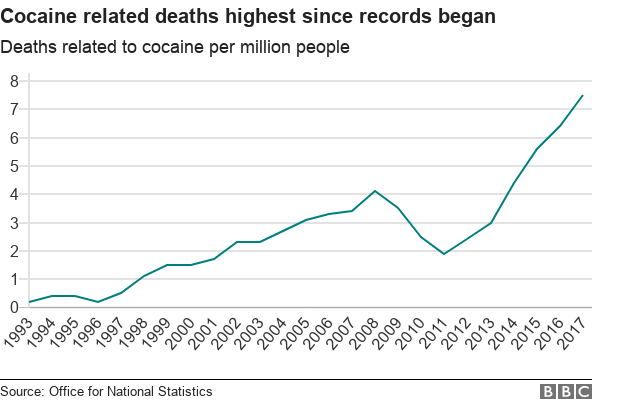 The reason for the surge in cocaine-related deaths over recent years has been attributed to increased purity and drug availability.
Being addicted to cocaine today is more dangerous than ever before. If you have a cocaine problem, it is vital you seek help. If you cannot afford a private detox, we recommend contacting your local drug and alcohol team and cocaine anonymous UK for community support in your local area.
Affordable Cocaine Detox
Detox Plus UK appreciate that not everyone is able to afford a vast sum of money for a private detox clinic. We have therefore sought out the most affordable yet still reputable detox clinics available in the UK.
Considering how much a cocaine habit costs on average, investing in detox and rehab treatment is affordable by most – at the right price.
It is important to us that we offer a variety of treatment facilities that range in cost and accommodation. Whether you are looking for a luxury clinic or an affordable one, we can help. All of our centres are CQC registered and run by qualified professionals, providing you with peace of mind.
If you have a problem with cocaine and want professional help, call us now. Detox Plus UK offer a free no-obligation telephone consultation with treatment recommendations.
More On Cocaine Detox
How long does cocaine stay in your system?
What are the Psychological Withdrawal Symptoms of Cocaine Abuse?
Sources:
Cocaine Anonymous UK
Office for National Statistics
NHS Digital
FAQs
Cocaine faq
Using too much cocaine at one time, known as an overdose, can be fatal. 
Deaths from cocaine are most commonly caused by:
Heart attack
Stroke
Seizures
Cardiovascular effects of cocaine use include:
Blood vessels constriction
Rapid or irregular heart rate
Increased blood pressure
What Does Cocaine Do To You?
Cocaine causes a short-lived, intense high that is immediately followed by the opposite—acute depression, edginess and a craving for more of the drug. Often people who use it don't eat or sleep properly. They can experience significantly increased heart rate, muscle spasms and convulsions. The drug can make people feel paranoid, angry, hostile and anxious—even when they aren't high.
How Much Cocaine Is Too Much?
A cocaine overdose (OD) depends on a few factors:
purity levels of the drug
amounts used
an individual's state of health state
While cocaine overdose is almost always unintentional, some suicidal attempts have been known to happen while on cocaine. Accidental overdoses can occur when you take cocaine with higher purity, in large quantities, or after a period of abstinence. Also, a common unintentional cocaine overdose involves mixing cocaine with alcohol or with other drugs simultaneously.
How long does cocaine stay in your system?
Within 2 to 3 minutes of snorting cocaine, a person feels an elated rush and stimulation that usually peaks within a half-hour and lasts about an hour overall.
Cocaine is absorbed quicker when someone smokes it. Blood concentrations of cocaine reach their peak level about five minutes after smoking the drug versus 30 to 40 minutes after snorting it. A person's urine typically tests positive for cocaine within one to four hours of consuming the drug and will continue to test positive for two to four days.